Luke Combs World Tour – FOH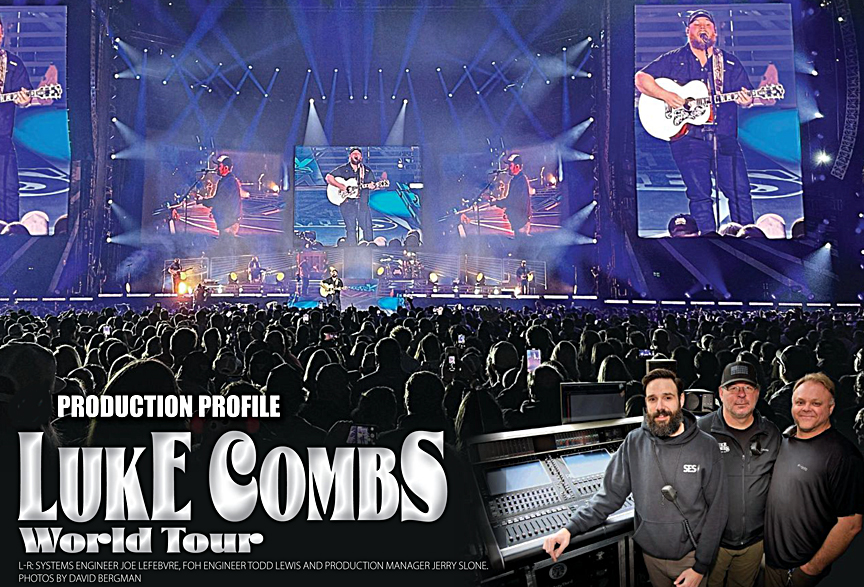 Luke Combs World Tour… Making Stadium Shows Sound Great
Luke Combs' world tour kicked off March 25 and is still in full swing, packing stadiums coast to coast. But if you want an anecdote to how fast and far Luke Combs has come, Jerry Slone has a good one. "I met him in 2017 when I was production manager for Brantley Gilbert, and Luke was the first of two support acts, given just a half hour to play and 12 feet of stage space."
Suffice to say, Combs is given a bit more time and stage space on his current world tour, as Slone, the tour's production manager can attest. "The tour is going fantastic, as we have an incredible crew," says Slone, who has just notched his third decade in the business (most of it behind an audio console). "Luke orchestrates a great work environment." The tour has a built-in, relaxed pace, sometimes up to a five-day build. The tour is built to play all football stadiums, with the one exception being the one I attended, in St. Louis' Busch Stadium, home of the MLB's St. Louis Cardinals. That one meant for a shorter load-in due to game scheduling and challenges that come with baseball fields.
The choice of system is notable: It is an Italy-based Outline GTO system, the largest deployment in North America so far, using all that the audio vendor, Special Event Services (SES), had in the warehouse and then some.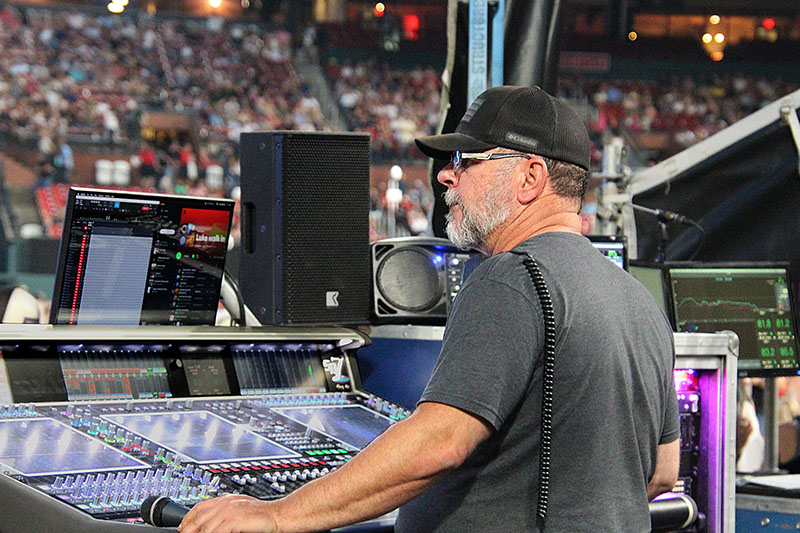 'Heck, Yes'
FOH engineer Todd Lewis grew up in Florida and has been in Asheville, NC since he was 15. He played drums in a couple of bands at A.C. Reynolds High School (where Luke Combs is an alumnus as well). "I started going to karaoke shows with a girl in high school and hooked up with the audio guy running them and started working for him." From there he moved over to a job at the Orange Peel, a 1,000-seat club that's a must-stop for any regional or national band coming through Asheville. Lewis started out on monitors and moved to FOH and assistant production manager duties, and in 2016, after 10 years, he got fired, which ended up being a good thing. "Literally the next week, Luke called to say he was opening for a Brantley Gilbert tour and asked if I would I like to go out with him. I said 'Heck, yes.'"
Lewis mixes on a DiGiCo Quantum 7. "I had never been on a DiGiCo console until this tour. Starting out, I was always on the console du jour when I wasn't on what the band owned, which was a QSC TouchMix." Then he was traveling with an Avid Profile, but when it came time to start acquiring their own consoles, it was DiGiCo's SD9, then an SD12, and now the 7. "The dual audio engines and all the other redundancy is more than you could ask for. It's the only console that does that; besides, I haven't found anything that sounds as amazing as a DiGiCo." He adds a Bricasti M7 reverb and an H3000 Harmonizer plus a Neve 5045 on Combs' vocals; but otherwise, "99% of everything comes from the console."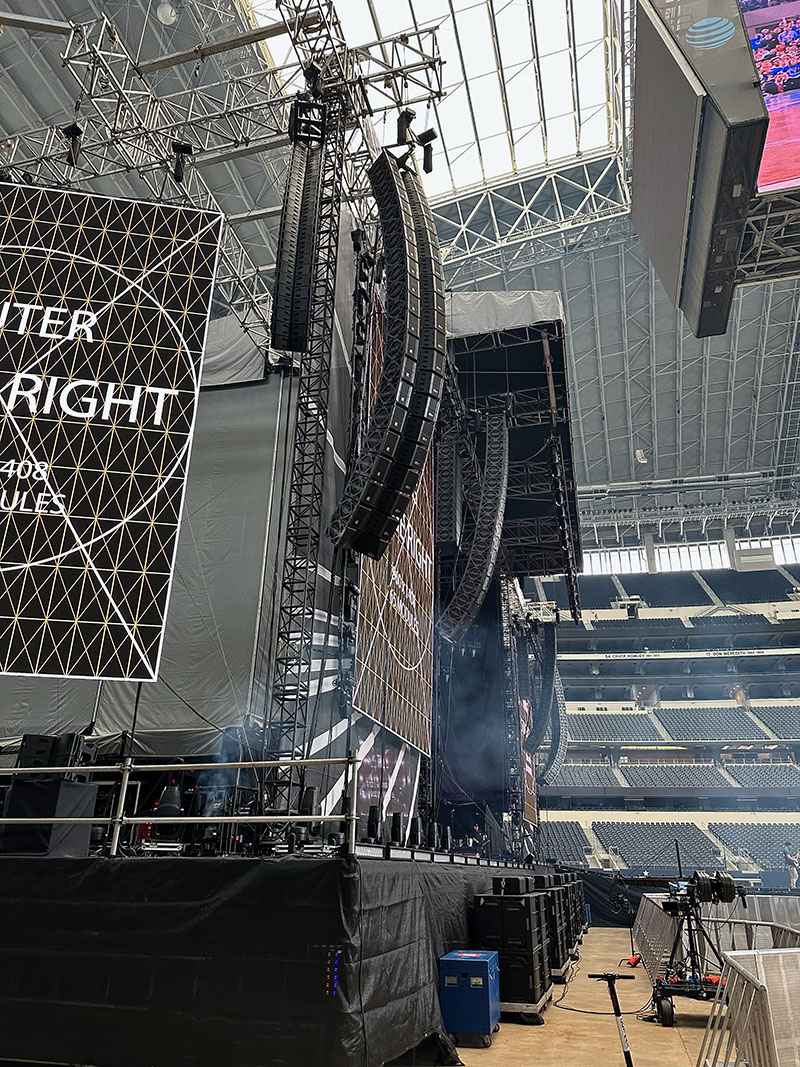 "This P.A. is stupid good," Lewis declares, of the GTO system. "There are a lot of good-sounding boxes out there, but this one smokes the rest. The stereo imaging is amazing, and it has all the horsepower I could ever need — I've never wished I had more." He says they maxed the GTO out at 114 dB, "but obviously we don't use all that." Another benefit? While in his experience, a lot of similar systems want to be driven hard to get the best mix, "this offers the same mix wherever you put the fader. It stays together at whatever volume you're mixing at."
Mic-wise, the tour is exclusively Shure. Background vocals have Beta 58s, with Combs using a KSM11 condenser. "We had been on other high-end microphones, and when we committed to Shure, for a long time I wasn't quite happy with Luke's mic until they sent over that KSM11. We heard it once and we said, 'that's the one.' Others go for more vocal chains, but I say you're not going to get that much detail in a football stadium with 50,000 people screaming at your speakers." Combs' vocal is the only wireless vocal. "We do a little acoustic set at the end of the thrust, and for that, we put Beta 58s on Axient sticks." The drums have a 91/52 kick combo, plus a 57 on snare top and a Beta 57 on bottom, then 904s on the toms, VP88s for overheads and 614s on the hi-hat and ride.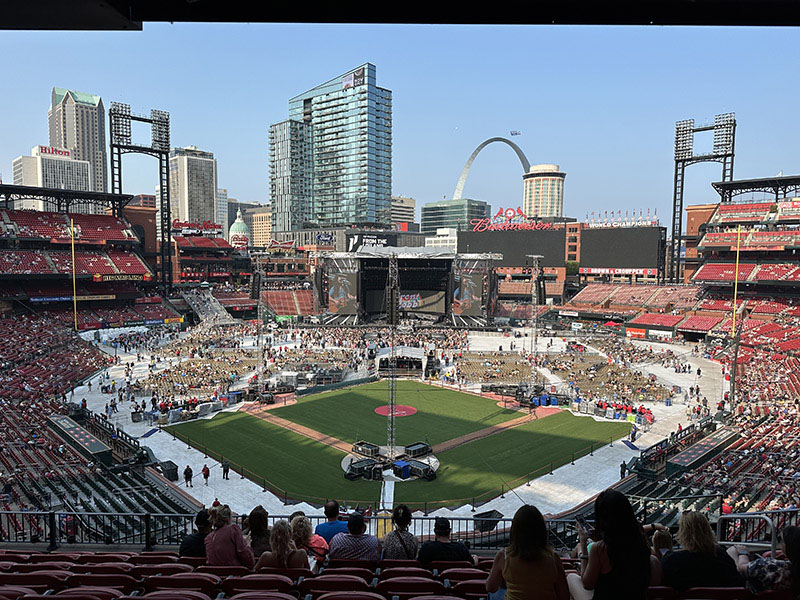 The enormous stage (built by G2 Structures) includes two long thrusts on either side of the stage. "It goes 60 feet out and the upright section ends up dead in front of the P.A. — and I have a condenser vocal mic on Luke — what could go wrong?" Lewis says laughing. "But he can put so much vocal out, that feedback is nonexistent unless you go to the extreme on the EQ." Still, he rings it all out before every show at every venue just to make sure it's all good.
Otherwise, Lewis and system tech Joe Lefebvre just negotiate the inherent challenge of space. "Football stadiums are designed to project the fans' noise onto the field to the team, and that's the exact opposite of we want as FOH engineers." Monitor engineer Michael Zuehsow jokes with Lewis, saying to "be sure you mix well tonight, because it's going to bouncing around here for the next few days."
When told he's been complimented often for his mix, Lewis shrugs it off. "I see younger guys with so many gizmos and gadgets that I feel like it makes people start mixing with their eyes instead of their ears. We're audio pros, not lighting people — just twist the knob until it sounds good."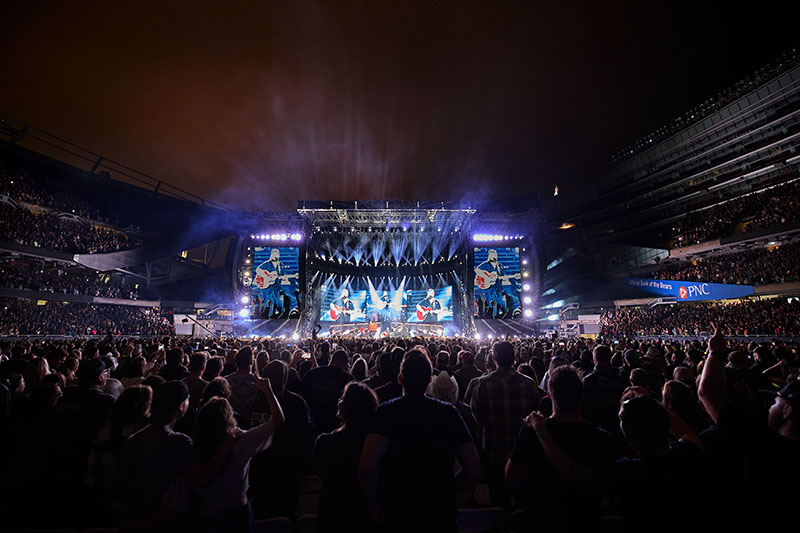 Mysterious Indeed
Lefebvre says he was "the dude that ran the P.A. in high school for recitals, etc." He then was that dude again when he went to Franklin Pierce University in Rindge, NH, where he got a bachelor's in music technology. He then moved to Atlanta, where he met Eric Roderick, production manager for the Zac Brown Band, who helped Lefebvre get his foot in the door. In 2012, he went to work for SES and was handling system tech duties for Combs by 2019. As for being a system tech, "I like having more of a hand in the quality of the show. I enjoy the 'man-behind-the-curtain' spot. And it is a bit mysterious to people!" he adds with a laugh.
To Lefebvre, the biggest difference on this tour is working with the Outline GTO. "It's a powerful rig, and in these 55,000-seat stadiums, it's covering well. It's a well-designed box, and the stereo imaging and headroom the amplifiers provide is beyond what you get with other systems." He adds that the rig flies up quickly, which is good, because there is a lot of it for this tour: It's a 270-degree hang with front and sides and includes 24 Outline Mantas medium-throw line arrays per side. The side hangs have more boxes than the front one. "We have three delay towers, so I let the side hang do more of the work."
His day-in and day-out has few surprises. "The delay speakers require more time to tweak due to their position changes. Otherwise, maybe the curvature of the array is slightly different as well," he says. "After 10 shows, I have a starting point now. I know what the box will sound like, and it's just a matter of massaging the EQ." Lefebvre does his homework before arriving at a venue, obtaining a 3D model of the next show, and says the Outline team has been helpful in importing the virtual stadium models.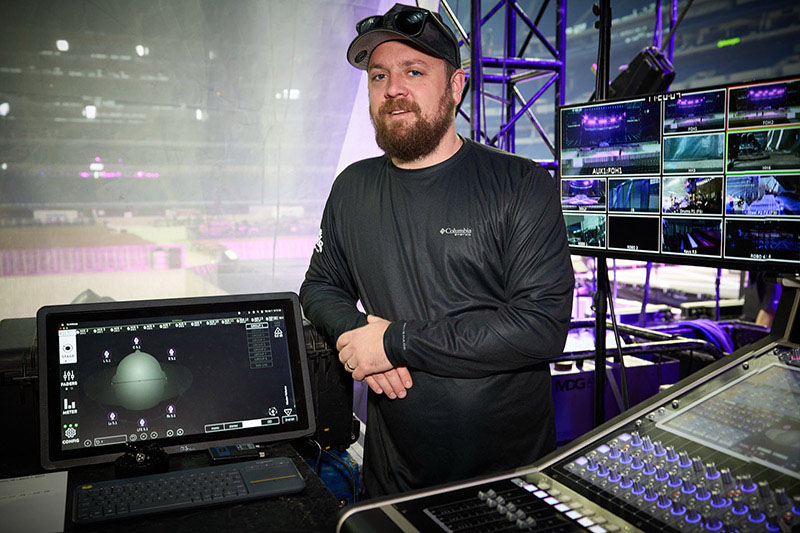 Feeling Happy
Monitor engineer Michael "Zuehs" Zuehsow grew up in Oak Ridge, TN and attended Middle Tennessee University, majoring in music production and minoring in Electro-Acoustics ("typical audio nerd," he deadpans). The school ran a full-fledged production company using the students, and that became his training ground; working on events like campus battle of the bands to single-mic mother/daughter events. Out of college, he worked at Sound Image's Nashville location in the shop, first as a tech, then moving on to mixing some festivals. "Once they saw I could handle that, they started throwing me on some artists." That included Lauren Alaina, who did a show opening for Jason Aldean along with Combs. He became friends with Combs' crew, and by the end of 2018, was offered the monitor position.
Zuehsow also mixes on a DiGiCo Quantum SD7. "It's unrivaled in configurability, features and workflow," he says. "And DiGiCo has the best customer service — I hear that from others, too, and don't know how they do it." He too, has little outboard gear. "I run six channels of Neve 5045 Primary Source Enhancer just to clean up the live vocal mics, and outside of one Bricasti M7 reverb, everything else comes from the desk. I have definitely utilized the console's Nodal Processing, Mustard channels and the Spice Rack pretty extensively. It's the best desk for mixing monitors at this scale, and now the DMI-KLANG [which he uses for immersive mixing] adds even more power."
Zuehsow also utilizes the KLANG setup for widening for numerous stereo sources, including certain reverbs, micro-shifts and instruments like B3 and stereo guitar modelers, which "feel inspiring rather than cluttered and fighting for space."
Broadcasting 18 wireless IEM mixes, plus feeding a number of other wired mixes for video, lighting and other crew, Zuehsow keeps his Quantum 7 and DMI-KLANG busy. "There are probably close to 30 ear packs in motion during a show, and there are no wedges on stage, because no one stands still long enough!" he laughs.
The band is all in-ears, all using FiR Audio's Xenon 6 earpieces. "I've been friends with the owner Bogdan Belonozhko for years, and they have done some incredible work. It's the most exciting audio development I've seen in over a decade, and it was great to bring in something that performs at the level that it does, and really work for the band."
This is Zuehsow's first stadium tour working for the headliner, and jokes that it's "fun" to be in "the big echo chamber that stadiums are." That and the long thrust of the stage are his biggest challenges. "When you are performing at the end of that thrust, you can physically feel the sound after you hear it," Zuehsow says. "That's why that kick drum is 'off,' because the performer is 100 feet in front of the P.A."
Zuehsow also is impressed with the coverage and throw of the GTO system. "It's fun to walk around and hear how Joe [Lefebvre] and the SES team do such an incredible job hitting all the spaces, even the far away ones, and how it's all dialed in. That makes me feel happy."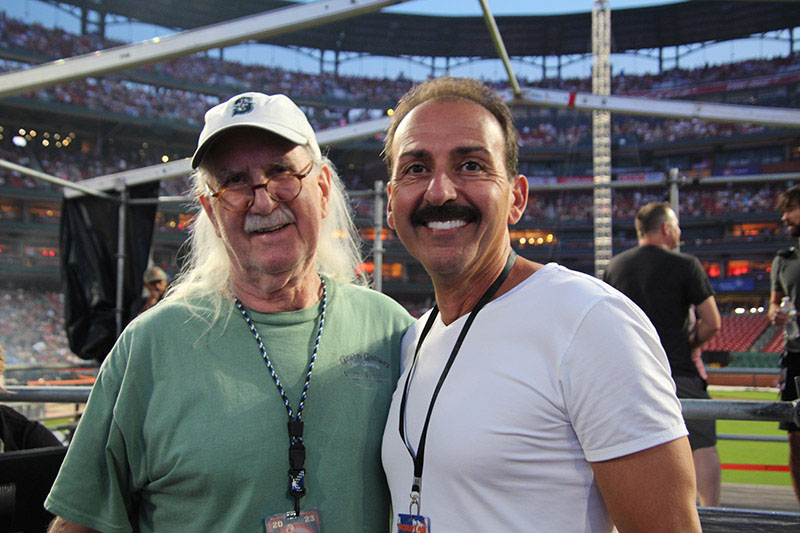 The GTO System
At a sound check in Edmonton, Alberta's Commonwealth Stadium, Slone walked to the very top seat in the back row to a seat that was completely hard stage right, and "the coverage is just amazing. I'm 450 feet from the delay stack and it sounds incredible." Lewis too, walks through "the worse seat section" every day checking coverage.
With seemingly little effort, SES convinced Combs' team to take out the Outline GTO systems. "I had [CFO and account manager] Mike Brammer do audio mapping of a couple of stadiums of the P.A. we were originally going to take out compared to the Outline rig, and I was taken aback by the coverage," Slone says. "Then our FOH spent some time mixing show files on it, and we all came to the same conclusion, that the GTO rig is incredible."
Jason Farah, president of SES and in charge of all things audio, spec'd and designed the audio system for the tour. "I still design the specific audio deployment for every venue this tour performs," he says. "With the Outline simulation software and 3D CAD drawings of every venue, I provide the detailed layouts to the touring team for every event they do." SES supported Combs' last arena tour, which included a couple of football stadiums with another system. It was good, though wasn't reaching up to the "nosebleed" sections and far corners of the stadiums like the audio crew had hoped. So they went back to him and said, "so what else do you have?"
In addition to the other benefits, Farah says that there has been "zero failures" of any of the GTO's components. "We have not lost one driver, tweeter or amplifier. We've never lost anything in the years we've had Outline gear. It's almost a joke because other manufacturers always provide a required box of spare drivers. The joke is nobody has any spares for anything Outline because nobody needs them!"
Note: The North American leg of Luke Combs's World Tour wraps up July 29 at Philadelphia's Lincoln Financial Field. The tour then moves to New Zealand and Australia in August and heads to Europe/UK for more shows in late September and October.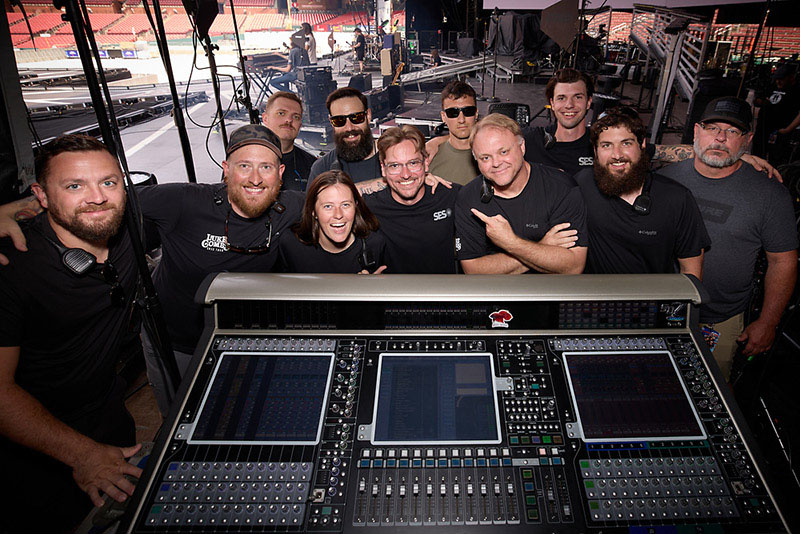 AUDIO CREW
Sound Company: SES (Special Event Services)
SES Account Rep: Michael Brammer
Production Manager: Jerry Slone
FOH Engineer: Todd Lewis
Monitor Engineer: Michael Zuehsow
Systems Engineer: Joe Lefebvre
Audio Crew Chief: Stephen Millet
RF Coordinator/Tech: Dan McLaughlin
P.A./Delay Tech: Mike Grabarczyk
P.A./Stage Techs: Nick D'Andrea, Wesley Hancock, Emma Berry,
Audio Tech: Caleb Imboden

P.A. GEAR
Mains/Side: (16) Outline GTO; (1) GTO DF
Flown Subs: (8) Outline GTO Low/side
Sides/Side: (20) Outline GTO; (1) GTO DF
Rears/Side: (24) Outline Mantas
Ground Subs: (40) Outline Lab21
Front Fills: (20) Outline LIPF-O82
Outfills/Side: (4) Outline Mantas
Delays (LCR Config.): (6) Outline GTO; (8) Outline C12
Amps: (91) Powersoft TTMK24
Power Distros: Whirlwind Powerlink

FOH GEAR
FOH Console: DiGiCo Quantum 7
FOH Processing: Bricasti M7, Eventide H3000, RND 5045, RND Portico II
Audience Mics: DPA 5100
P.A. Drive: (2) Outline Newton 16/8 Processors; (3) EMG AES Repeaters
P.A. Control: Powersoft Armonia Plus; Outline Dashboard; Rational Acoustics Smaart
I/O and Tuning: Roland Octa-Capture I/O; (2) Lectrosonics R400a; MiPro ACT-848 Quad Channel Receiver

MON GEAR
Monitor Console: DiGiCo Quantum 7
I/O: (2) SD Racks w/32-Bit Cards, SD Mini Rack
Mon Processing: Bricasti M7; (3) RND 5045; Klang DMI Card
RF Input: 22 channels Shure Axient Digital
IEMs: Shure PSM1000 hardware; FIR Audio Xenon6 earpieces
RF Tools: Shure AXT600, Shure AD610 Showlink
Wireless Mics: (2) Shure ADX2FD w/KSM11; Shure AD1X
Distribution: PWS Alpha 4×8 Multi Zone Distributor
Originally posted on fohonline.com on June 30, 2023.
Written by Kevin M. Mitchell